By Rob Pecoraro (@dudewheresmyhookah)
For our second list in the Top 3 series, we went with a topic that is near and dear to our hearts and our hookah sessions: Bowls! A good hookah bowl can be priceless to a hookah enthusiast and we here at Fumari have an arsenal to choose from. They have become the proving grounds in some of our final tests before a new flavor sees the light of day. Most importantly, this is where the quality of your session begins at its core. You can have a premium setup - the likes which rival a down payment on a car - but if you don't have a quality bowl, you'll never quite achieve what you could get out of that said pipe, pure and simple. Here are our picks that will truly change your thoughts on what your hookah is capable of!
TOP EGYPTIAN-STYLE HOOKAH BOWLS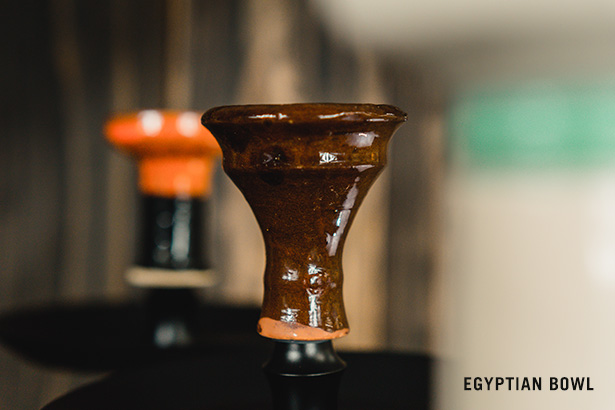 With hookah traditions spanning centuries, one bowl seems to have defined the culture. That is the Egyptian bowl. Originally derived in Egypt, this bowl sought to bring more of a mass-market appeal through low-cost red clay that is made by the thousands on a daily basis. Typically, the bowl will range in depth and size depending on the artist and process, but the five holes punched through the bottom serve as a tell-tale sign of what you are working with. No matter where you go in the world it's more likely than not that one of these bowls will be served to you in a lounge or is a cornerstone in your host's collection.
1st pick: Don Buffalo Bowl With Hookah always evolving, modern iterations have taken center stage and sought to remedy the inconsistent nature of the original down to minuscule proportions. This is where the Don Buffalo bowl comes in. With this bowl, Don opted to forego beating the dead horse and instead focus on a dead buffalo which is beautifully emblazoned on the side and gives the bowl an awesome rustic aesthetic further backed up by their glazing style. The inner workings of the bowl are much like what we know and love as five holes are again punched through the bottom for airflow. However, unlike the original, the Don Buffalo bowl uses a white clay and thinner walls which help facilitate heat management throughout the session by needing less charcoal. This bowl is also fully Heat Management Device (HMD) compatible which gives it the versatility factor we love in our hookah practices and earns it our number 1 spot in today's blog.
2nd pick: Alpaca Egy While the Don Buffalo bowl has stayed close to its role model, the Alpaca Egy bowl has distanced itself immensely. Stoneware clay is used in its creation forming thick walls that soak up heat like there's no tomorrow while the five holes we are accustomed to have been phased out for a nine holed and slightly raised, convex center. This bowl just narrowly misses out number 1 spot and should be noted as a strong candidate in this bowl category for any style of smoker.
3rd pick: Egyptian Bowl As far as our tastes go, this may not be our first choice, but it's often something we come back to and you should too. The old-world charm and historical benchmark status certainly give you that throwback vibe while virtually all types of tobacco bake happily inside with very little maintenance. Tried and true is beyond an understatement with the classic Egyptian bowl!
TOP PHUNNEL HOOKAH BOWLS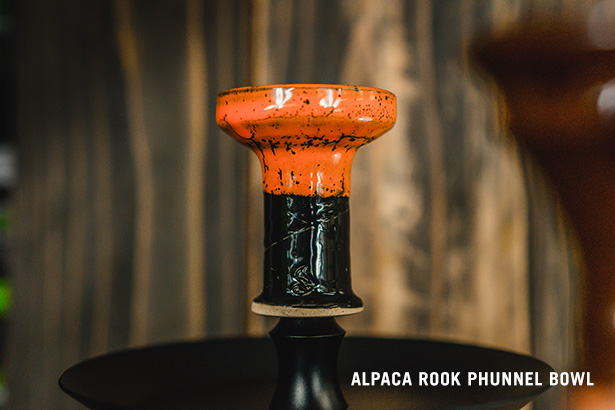 While Egyptian bowls may have defined the hookah culture, phunnel bowls reinvented it. As hookah tobacco changed from its dry and sticky consistency to the juicy and bright adaptation we all know now, a change in design for modern hookah bowls was called for. Enter the phunnel bowl.
Whereas Egyptian bowls pull the heat through the bowl and tobacco, this bowl acts more like a dish and seeks to preserve the glycerin and molasses base, thus prolonging your session. Like the previously mentioned bowls, quality has always been the cornerstone in production of phunnel bowls and they are consistent in shape and noted size. Typically, a white clay mixture is used in phunnel production which is usually a blend of stoneware that is formulated to embrace the heat generated by your favorite charcoal more uniformly than what we see with the red clay of its predecessors.
Instead of our usual Top 3 system, we've decided to showcase the best within each size for this particular category.
Top Large- and Small-sized Phunnel Bowl: Fumari Rook and Mini Rook Our number 1 pick for both large and small comes directly from our warehouse and is made by the hands of Alpaca in the form of the Rook bowl and Mini Rook bowl.
The Rook bowl draws inspiration in name and design from the infamous chess piece. The spire clearly resembles a pivotal figure in the game and - by no coincidence - changed the hookah game! In a standard phunnel bowl, the spire is a simple straight shot up, but the Rook bowl has four notches carved out of the spire to allow more airflow. This effectively mediates a flaw with some of these bowls where the draw would ultimately be cut off due to the spire being level with the rim of the bowl. Apart from design, Alpaca has meticulously crafted a clay mixture that is known to be resistant to heat spikes, cracks, and will surely hold up over time while becoming your go-to. The small (mini) is perfect for a simple hour to two-hour foil session as very little tobacco is used without sacrificing session quality. For more of a marathon setting with friends where repacks are the last thing you want to worry about, the larger Rook bowl is all you will ever need. It should also be noted that this size of the bowl is perfect for your favorite HMD!
Top Mid-sized Phunnel Bowl: Goodfella 4.5 If you're more of a midground smoker, we hear you loud and clear, as does Alpaca. Sometimes you don't want to use a large bowl and other times the small just won't cut it. This is where the Goodfella V4.5 shines. The Goodfella's newest iteration gives you everything you could want from both a small and large bowl at the same time. The dish is perfectly shallow which makes packing your favorite brand a total breeze and the extremely wide set spire gives you an open draw on even the most restrictive of pipes while keeping flavor-loss at a minimum. Versatility is also a big factor here as both foil and HMD sessions can be throw at the bowl with no apprehension. Whoever said being the middle child was a bad thing?
TOP ARTISAN HOOKAH BOWLS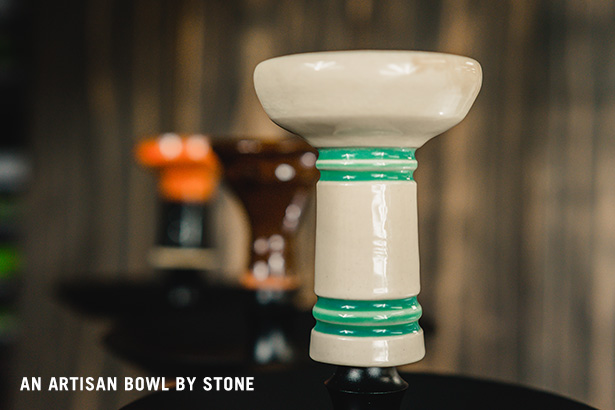 As with any industry, there are a few brave individuals who push the limits of what is acceptable and embrace innovation. Small scale production is where it all starts, but with artisan-style products that is where it stays. Quality and artistry are what defines this category.
1st pick: Stone Hookah Bowls We can't think of a brand that upholds that value better than Stone Hookah Bowls. While there are consistencies in Stone's branding in each bowl (the notches in the dish that heat your tobacco from the bottom up and the composition of the stoneware clay) most of Stone's small releases are unique and ensure you have a product all your own. Often times you even see 1 of 1 stamped on the bottom of the bowl making them all the rarer. Alongside all of these outstanding qualities, the shape of each bowl is made in a way that guarantees all of your tobacco is used up during the session without fail. Both inside and out, a Stone bowl is art, hookah-fied.
2nd pick: Relix Bowls "Ring" Much like Stone, each Relix "Ring" bowl is handcrafted to have a different aesthetic that simply follows an idea rather than a set subject. The idea in question here is a ring that serves to keep the foil from blocking any of the gorgeous curves and glaze from being showcased. This is done by applying your foil, then the ring to the outer diameter of the bowl, which securely locks it in place so the excess foil can be ripped away without compromising the tightness. While this ingenious design alone could make it our number 2, the details in the glaze, clay body/composition, and overall session length backs it up.
3rd pick: Mason Shishaware Onyx Bowl Years of tedious R&D came to life in the form of this now iconic bowl that you, no doubt, have heard of. If you could imagine it, chances are Mason Shishaware already did it with this bowl. With a lip to accompany your favorite HMD, a proprietary mix of shock-resistant clay dubbed "shishaware", a molasses catcher at the bottom of the bowl to keep any spillage from tainting your water, and some of the thickest walls we've still seen to date, the onyx bowl has everything you could want. As if all of these features weren't enough, the glazes used to finish this bowl are out of this world. The newly minted Grand Onyx even offers a wood and resin hybrid bowl for your enjoyment.
Thanks for stopping by this entry in our Top 3 series! Don't forget to tag us in your favorite bowl pictures and leave us a message with a recommendation for our next post!