Understanding the difference in hookah coal types is key to having a good hookah session. It can be the reason between a session that is falling flat and one that exceeds all your expectations. Using the right hookah coal type and quality tailored to your smoking preferences ensures a long-lasting session that has a strong, vibrant hookah flavor throughout. On the other hand, using low-quality charcoal means your hookah will die quicker, impart a bad taste, and produce a lot of messy ash.
So how do we go about avoiding that you ask? Let's begin by taking a look at some characteristics of both high and low-quality coals in our hookah charcoal quality chart below!
CHARACTERISTICS OF HOOKAH CHARCOAL QUALITY
High Quality
Poor Quality

Little-to-no bad smell when lighting
Does not affect the taste of your tobacco when smoking (great coals can enhance the flavor)
Produces very little ash
Extends your session by providing adequate heat over a long period

Strong, bad smell when lighting
Can taste the charcoal when smoking
Produces a lot of messy ash
Cuts your session short by not providing enough heat for a substantial time
Popular Hookah Coal Types
Then, let's go over the two hookah coal types that people commonly use today. There are coconut coals and quick light coals. Most of us started out with quick lights but quickly realized there is something better out there something more to life than rushing your precious hookah session.
Quick Light Hookah Coals
Quick light hookah charcoal have the benefit of lighting instantly with a lighter, meaning they are useful in outdoor settings when you cannot use a burner. But the positives really stop there. If used inside, the smell that comes from this charcoal is usually not very pleasant. The harsh taste and short duration of heat can dampen your session, making them not the ideal type of charcoal available.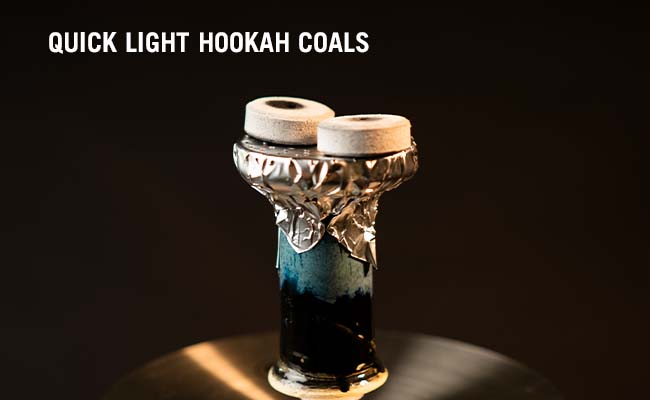 Pros
They light quickly
Convenient in certain situations
Cons
Negatively impact the duration of your session
Can add a bad taste to your flavor
Typically have a bad smell when lighting
Coconut Hookah Coals
The superior charcoals in most situations, on the other hand, are coconut charcoal. These coals are made of smoldered and ground coconut shells that are compressed into briquets. Good quality coconut coals take longer to light (roughly 8-12 minutes) and require a very hot source of heat to be fully lit. The most common method to do this is with a single-coil burner, a coil stove, gas burner, or a blow torch (A campfire is a good alternative to this). If you want to read more about the importance of lightning your hookah charcoal fully/ properly, check out our blog detailing this!
Coconut coals for hookah can vary in shape, size, heat output, and longevity. They come in cubes, flats, wedges, and even circular shapes. Amongst hookah enthusiasts, the widely accepted shape is the cube. Cubes accommodate most configurations and you'll be using two to three coals for a one-to-two-hour session. Keep in mind that there are other factors to consider including the heat output you desire, the size of the individual coals, the tobacco, and the heat management device you choose.
Coconut coals are also a great bang for your buck! Regular-sized cubes (25mm) range from $10-15 USD for 72 pieces (weighing 1 kilo). Assuming you use two pieces per session, that will net you 36 single round sessions per box. This can vary if you do longer sessions which will use more charcoal per head. Another common size is the 22mm coconut charcoal cube which costs roughly the same for 108 pieces or more (weighing 1 kilo). Since they are smaller than the regular size, you will need to use around three coals per single session. Assuming three pieces per session, that amounts to roughly 37 sessions per box. A benefit of using the smaller 22mm pieces is that you have more control over your heat with some heat configurations such as a foil setup.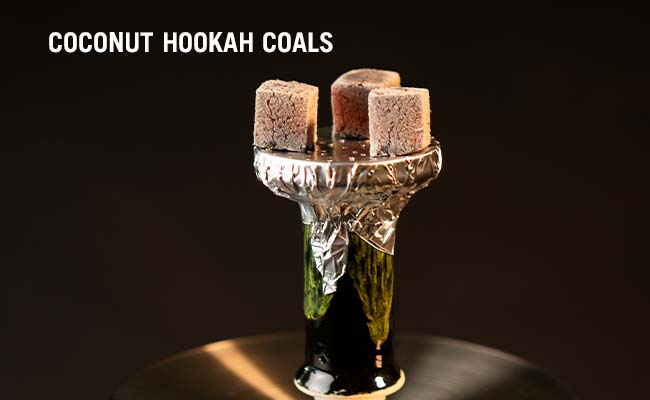 Pros
Don't add any taste to your session from the coals
Session is usually 1+ hours without adding additional coals
Less smell when lighting (assuming coals are of good quality)
Good bang for your buck
More control overheat management due to the use of multiple pieces
Cons
Take longer to light
More limited on locations where the charcoal can be lit.
---
All things considered, it's always good to do some online research before purchasing hookah charcoal – and that includes reading this blog! You won't be the first or the last person to try various options for hookah charcoal but luckily, we did a lot of the research for you already so you don't end up with the wrong coals. We hope this blog is informative and helps you narrow down your next charcoal purchase. Until next time, smoke on!